Our Story: Unveiling the Origins of Turn Dough
Picture this: a journey that began in the 18th century, where Trdelník,a delectable European masterpiece, captivated families across Central Europe. Now, fast forward to 2017 when David, a Prague native, bid farewellto the cobblestone streets and ventured to sunny Los Angeles. Fuelledby his passion for sweet delights, he established the renowned company known as Turn Dough, sprinkling joy across the American dessert landscape.
Since our grand opening on November 3, 2017, our family enterprisehas triumphed, embodying a tale of success and unwavering commitment.
Our Mission: Introducing European Traditions with a Modern Twist
David passionately recounts our mission: introducing European traditions, with a particular emphasis on the authentic Czech Made flavor, to the American consumer. We take immense pride in accomplishing this goal, as our delectable treats have delighted countless individuals nationwide. Moreover, we set ourselves the challenge of selling one million products within our first five years, and we are thrilled to announce our triumphant success. Over half a million fortunate individuals have already savored the exquisite delights that our company offers.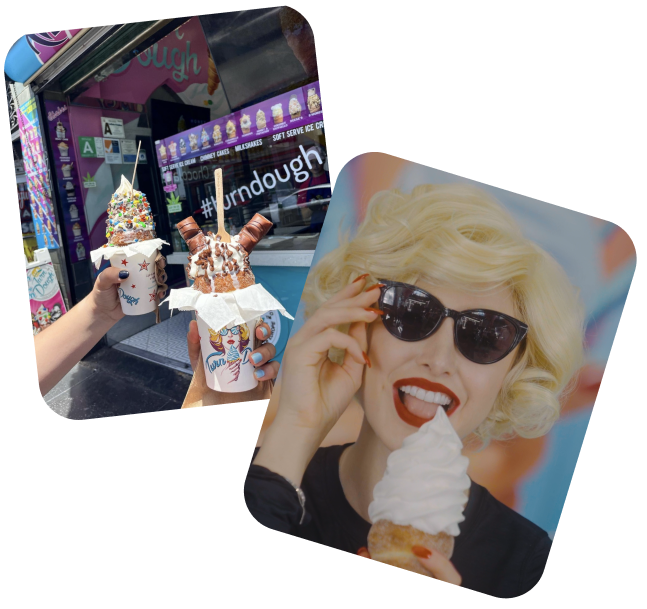 Taste the Triumph: One Million Delighted Customers and Counting
Now it's your turn to enjoy Turn Dough! Embark on a journey through our extraordinary menu, where European traditions merge seamlessly with American creativity. With a diverse and flavorful selection, we cater to every palate and occasion. Indulge in our 18 signature Chimney cakes with Soft Serve Gelato, offering a variety of delectable combinations. Immerse yourself in the richness of Italian-style Gelato Vanilla Bean (soft serve), crafted fresh daily using GMO-free, gluten-free, kosher, and halal ingredients. We source our dairy milk from grass-fed cattle, ensuring exceptional quality in every bite. Alongside our mouthwatering Chimney Cakes, you'll find an enticing array of indulgences, including delectable Milkshakes, refreshing Dole Whip, irresistible Homemade French Crepes, heavenly Belgian Waffles, and a delightful selection of espresso. Our commitment to excellence shines through in our choice of the finest ingredients, guaranteeing an exceptional taste experience. At Turn Dough, we go above and beyond to satisfy your cravings and elevate your culinary experience.