Ice Cream Cones
Freshness is our priority at Turn Dough. Our iconic chimney cake cones are always baked right before your eyes, ensuring the utmost freshness. Each order is crafted to perfection and infused with only the finest ingredients. Our in-house made Vanilla Bean soft serve ice cream is made daily with the goodness of grass-fed cattle dairy milk. We take pride in offering GMO-free, gluten-free, egg-free, kosher, and halal soft serve ice cream.

UNICORN
Unicorn is a magical delight in the swirling decadence of Nutella, embellished with the whimsy of Unicorn sprinkles, all encased in the warm embrace of our signature chimney cake cone pastry. Crowned with handcrafted Unicorn fondant, this ice cream cone is a fairytale come to life!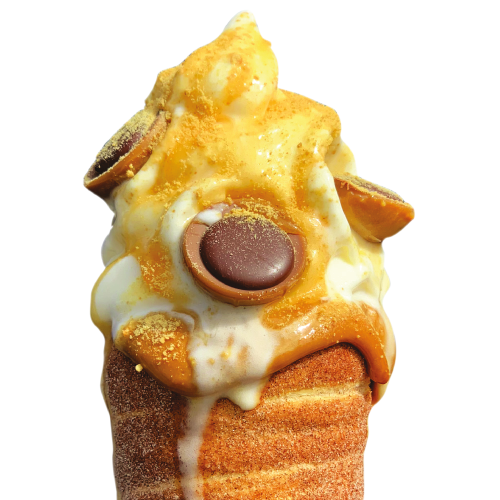 CARAMELLO TOFFIFAY
Savor the goodness of our Caramello Toffifay chimney cake cone filled with rich Dulce De Leche and topped with Vanilla Bean soft serve! Adorned with Toffifay Candies and Graham Crackers, a drizzle of caramel and sea salt sauces adds the perfect finishing touch. An enchanting experience for caramel enthusiast!
HONEY & PISTACHIO
Honey & Pistachio soft-serve ice cream is reminiscent of Arabian nights, where each bite carries you into the enchanting world of exotic flavors. It is infused with aromatic cardamom and an exquisite blend of Middle Eastern spices. A drizzle of raw organic honey adds a touch of natural sweetness to this iconic ice cream cone.
FRUTTI
Inside Frutti lies a generous spread of creamy Nutella. We take it up a notch by layering our creamy Italian-style soft serve with fresh and juicy Strawberries and Blueberries. Then, we crown it with a bountiful topping of more Strawberries and Blueberries, drizzled with a Chocolate sauce. It's a symphony of bliss that will leave you craving for more with every blissful bite.
MINNIE MACARONS
Experience a taste of Disney magic with our Minnie Macarons ice cream cone! Inside our out-of-the-oven chimney cake cone, you'll find a rich spread of Dulce de Leche. We then generously top it with creamy soft serve ice cream, French Macarons, Rainbow sprinkles, and a handmade Minnie Mouse bow on top. It's a treat that captures the essence of Disney and Minnie, perfect for all the Disney lovers out there!
REESE'S
Our Reese's ice cream, a homage to the peanut butter connoisseur, offers a medley of delights! Featuring a rich filling of Crunchy Peanut Butter nestled atop our iconic soft serve gelato, it's a symphony of flavors and textures. Adorned with chopped Reese's Pieces and crowned with the Reese's Peanut Butter Cup, this European-inspired delight is masterfully presented in our signature chimney cake cones, straight from the oven!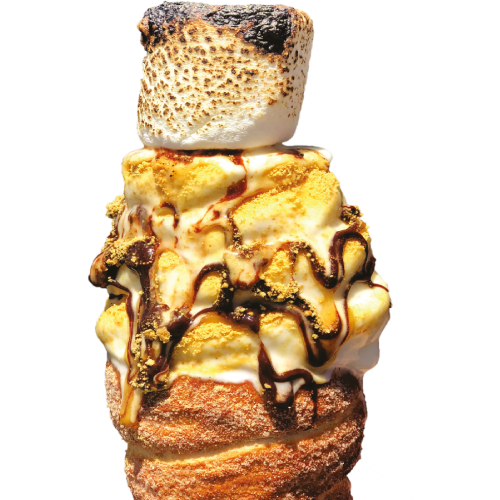 S'MORES
Our S'Mores chimney cake cone is generously spread with Nutella and topped with creamy Gelato soft serve that melts perfectly into the warm, gooey center. A torched giant Marshmallow adds a delightful twist, while crushed Graham Crackers and drizzles of Chocolate and Caramel sauces complete this heavenly treat.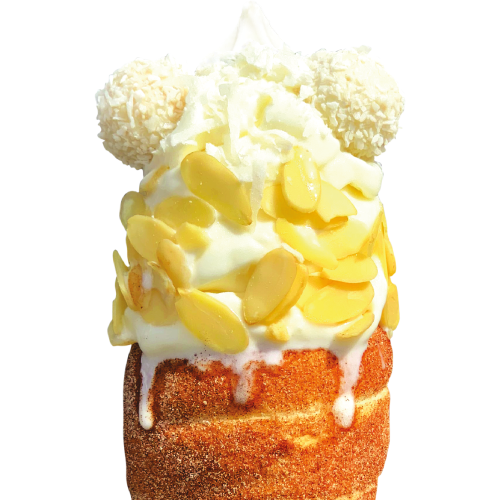 COCONUT RAFFAELLO
Inside our warm chimney cake cone lies a filling of Dulce de Leche. A swirl of Vanilla Bean Gelato soft serve adds a delightful twist, perfectly complemented by the exquisite Raffaello candies that adorn the top. To add a delightful crunch, we sprinkle blanched sliced almonds and sweetened coconut flakes. It's a treat that will whisk you away to a tropical paradise with every delightful bite.
MATCHA
Our Matcha ice cream orchestrates a symphony of delectable elements. It harmonizes smooth Vanilla Bean soft serve with the irresistible crunch of Matcha Kit Kat. Elevating this fusion, a dusting of organic Row Matcha Powder layers depth and vibrancy to the ensemble. The crescendo arrives with a luscious finale—a drizzle of premium Uji Matcha Sauce, delivering a silken experience that awaits you at our
ice cream shop
.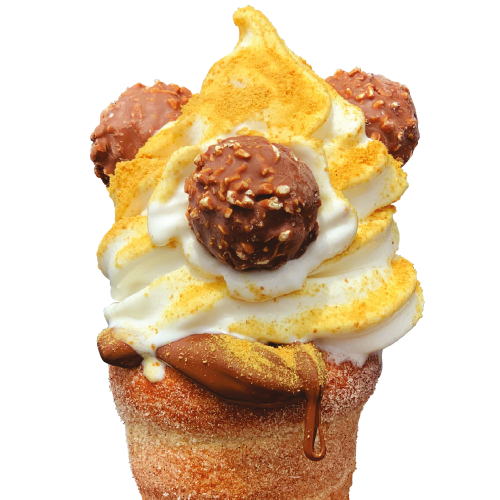 FERRERO ROCHER
Our Ferrero ice cream cone is a masterful composition—velvety Nutella dances through creamy Vanilla Bean soft-serve, entwined with the crunch of Graham Crackers and crowned by Ferrero Rocher candies. It's a symphony of flavors and textures, a journey to the apex of dessert delight that beckons with each decadent bite!
BISCOTTI COOKIE BUTTER
Behold our Biscotti Cookie Butter ice cream cone: a masterful creation adorned with a lavish spread of Cookie Butter atop sumptuous Italian-style soft serve. But wait, there's more to savor! Marvel at the chunks of Chocolate Chip Cookies, offering a delightful crunch in each mouthful. The pièce de résistance? A decadent cascade of Caramel sauce, elevating our ice cream chimney cake to an irresistible symphony of sweetness.
M&M'S
We start by spreading a layer of creamy Nutella inside. Next, we add a generous serving of luscious Vanilla Bean Gelato, creating a harmonious blend of flavors. To add a colorful and playful touch, we sprinkle a medley of vibrant M&M's throughout, creating bursts of chocolatey goodness in every bite. It's a tantalizing treat that combines the rich creaminess of Nutella, the velvety smoothness of Vanilla Bean Gelato, and the irresistible crunch of M&M's.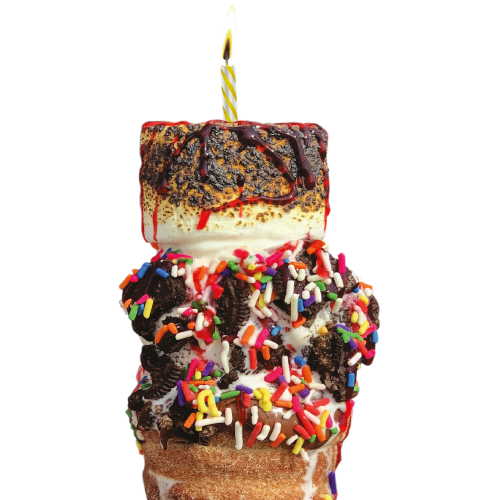 BIRTHDAY CAKE
Our Vanilla Bean Gelato soft serve is crowned with a torched S'more, subtle crunch of Oreo pieces, and Rainbow Sprinkles, complemented by a drizzle of Raspberry sauce. Topped with a candle, it offers a sophisticated touch to mark a special moment. It's not merely dessert; it's an understated celebration in every spoonful.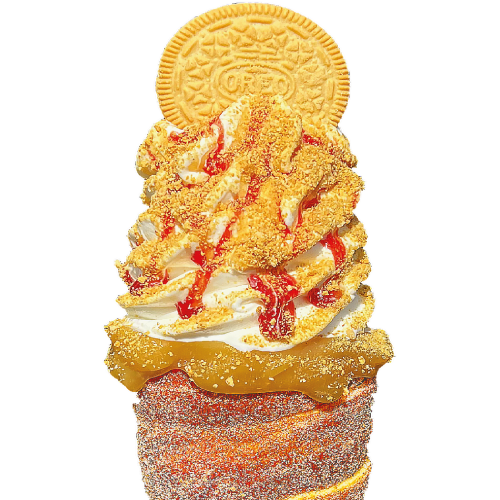 LEMON
Our Lemon Vanilla Bean Gelato soft serve intertwines with tangy Lemon Curd, offering a subtle Graham Cracker crunch and a delicate blend of Raspberry and Sea Salt Caramel sauce. Crowned with a Lemon Oreo cookie, it creates a harmonious blend nestled within our freshly baked chimney cake cones, inspired by the European culinary tradition.
NUTELLA DREAM
Imagine a luscious spread of Nutella, accompanied by creamy Vanilla Bean Gelato soft serve ice cream, all nestled within our fresh out-of-oven chimney cake cone. Adding to this taste sensation, we generously lavish it with iconic Nutella sauce and crown it with Kinder Bueno candies. A divine masterpiece tailored for Nutella enthusiasts, this treat reigns as our ice cream shop's favorite delight!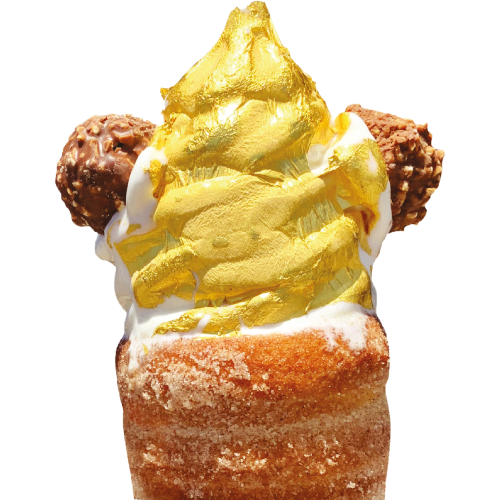 GOLD'N KISS
Our Ferrero Rocher signature chimney cake presents an exquisite harmony of Nutella, creamy Vanilla Bean gelato, and the luxurious essence of Ferrero Rocher candies. Gilded with delicate 24kt gold leaves, it invites soft serve lovers to enjoy this deluxe treat at our special ice cream shop.
BROWNIE
Our Brownie combines the rich flavors of Nutella spread and Vanilla Bean soft serve gelato. Complete with a subtle crunch from walnuts and chocolate chip brownies, it's adorned with a heavenly blend of sea salt caramel and chocolate. Served in our European-inspired chimney cake cones, this dessert is a delightful treat you won't want to miss.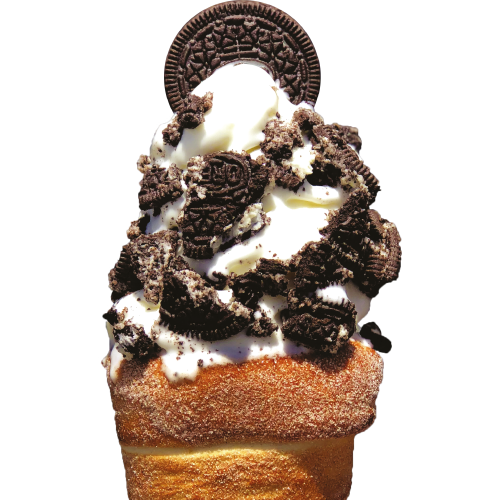 OREO
Our Oreo ice cream chimney cake cone is a delightful blend of Vanilla Bean soft serve and crushed Oreo pieces. Served fresh, it's a taste of Europe to relish at your leisure!
Milkshakes
Delicious shakes made with Soft Serve Gelato, Whole Milk and Homemade Whipped Cream

Piña Colada
Delight in the taste of the tropics with our Pina Colada Shake. Crafted with Pineapple Dole Soft Serve, a touch of coconut, and non-alcoholic rum, it's a refreshing milkshake that brings the essence of a classic cocktail into every sip. Topped with our homemade whipped cream for an added layer of indulgence.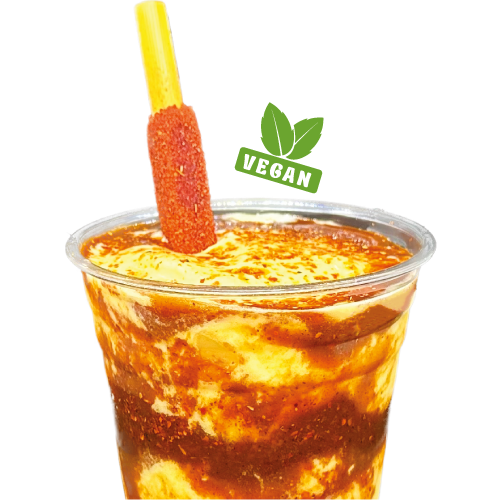 Pinanada
This one-of-a-kind creation starts with the creamy goodness of Pineapple Dole soft serve, evoking the essence of a tropical escape. Infused with a playful twist, we drizzle the perfect amount of Chamoy – a tantalizingly tangy and sweet Mexican condiment – adding a layer of complexity that surprises your taste buds with every sip. To complete this tantalizing concoction, we sprinkle Tajin, a zesty chili-lime seasoning, creating a harmonious blend of flavors that awaken your palate.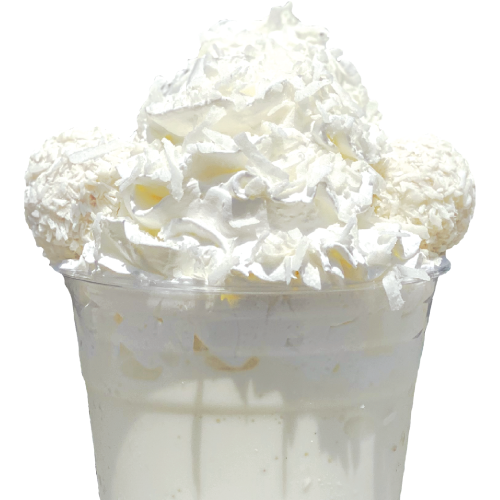 Coconut Raffaello
Crafted with the finest ingredients, including luscious coconut flakes, velvety vanilla bean gelato, and creamy whole milk, this shake is a symphony of coconut delight. Experience the allure of the islands as you savor the rich creaminess of the vanilla bean gelato, perfectly paired with the exotic texture and flavor of coconut flakes. Each sip takes you on a journey to sun-soaked beaches and swaying palm trees.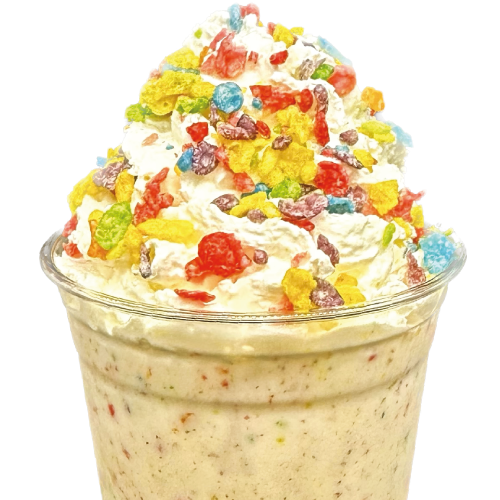 Frutti Pebbles
Embark on a whimsical journey with our Fruity Pebbles Shake. Crafted using the finest vanilla bean gelato, whole milk, and a generous helping of colorful Fruity Pebbles cereal, this shake is a playful delight for the senses. As you take each sip, the crisp and nostalgic essence of the cereal dances on your taste buds.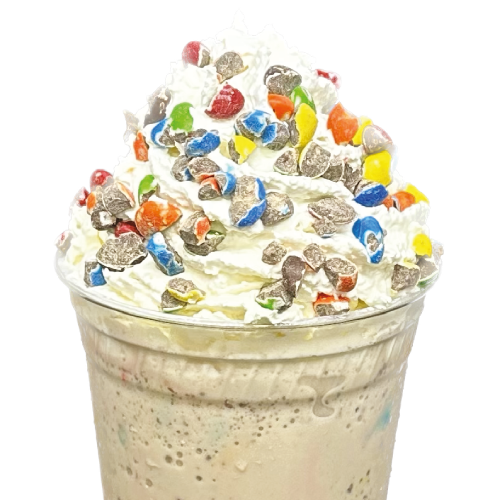 M&M's
Experience the velvety richness of the vanilla bean gelato as it mingles with the iconic crunch of M&M's, creating a symphony of textures and tastes that dance on your palate. Topping this exquisite creation is a cloud of homemade whipped cream, adding a touch of lightness and sweetness to the indulgent concoction. Adorning the crown are tantalizing pieces of M&M's, inviting you to take a moment to relish the vibrant colors and delightful crunch.
Nutella Ferrero
Experience the harmonious blend of Nutella's hazelnut goodness and the exquisite flavor of Ferrero Rocher candies, all enveloped in the velvety embrace of vanilla bean gelato. Every sip is a celebration of opulence and taste. Topped with a lavish dollop of homemade whipped cream, adorned with luscious Ferrero crumbs and crowned by the irresistible charm of Kinder Buenos, this shake is a true work of art.
Matcha Milk Shake
Indulge in the perfect harmony of matcha with our Matcha Milkshake. Crafted from organic raw matcha powder and infused with the goodness of matcha Kit Kat. Topped with velvety whipped cream AND Matcha Kit Kat, this milkshake is a true indulgence for matcha enthusiasts and newcomers alike.
Red Velvet
Discover the allure of our Red Velvet Shake. Crafted with care, it combines in-house baked red velvet crumbs and velvety vanilla bean gelato. Topped with homemade whipped cream, a sprinkling of crumbs, and crowned by a decadent red velvet cupcake. A symphony of flavors and textures in every sip.
Reese's
Experience bliss with our Reese's Shake. Crafted with luscious vanilla bean gelato, whole milk, and the iconic flavor of Reese's peanut butter cups. Topped with homemade whipped cream and a drizzle of chocolate sauce, this shake is a peanut butter and chocolate lover's dream.
Strawberry Cheesecake
This exquisite creation blends the vibrant sweetness of strawberries, the velvety richness of cream cheese, the luxurious smoothness of vanilla bean gelato, and the nostalgic comfort of graham crackers. Topped with a generous swirl of homemade whipped cream, the shake becomes a canvas for fresh strawberry slices that lend both vibrant color and a burst of juicy goodness. This ensemble of textures and tastes transforms every sip into a journey of delectable sensations.
BROWNIE
Chocolate lover's fantasy with our extraordinary Brownie Milkshake. We start with our velvety Soft Serve Gelato, infused with Whole Milk and generous crumbs of heavenly brownies, adding a gooey and fudgy texture that creates a symphony of chocolatey goodness. We crown this masterpiece with a generous swirl of Homemade Whipped Cream, irresistible Chocolate Chip Brownies and a drizzle of luscious Caramel Sauce, adding a caramelized sweetness that harmonizes perfectly with the chocolatey goodness.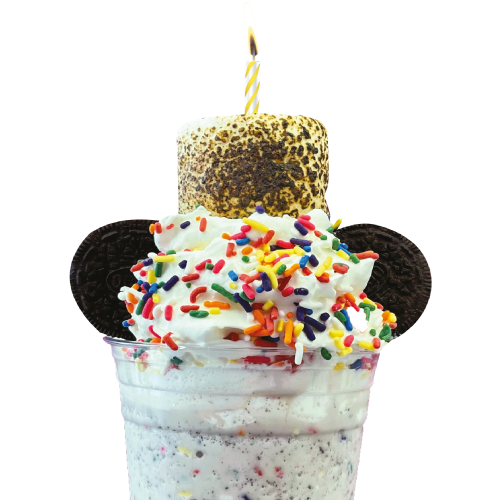 S'MORES
This creation begins with our velvety Soft Serve Gelato, infused with rich chocolatey goodness and Whole Milk achieve the perfect consistency. To recreate the classic campfire treat, we add Graham Crackers, providing hint of nostalgia. The milkshake is crowned with a lavish dollop of Homemade Whipped Cream, bringing a creamy and airy element to it. But that's not all! We take it to the next level by garnishing it with Nutella-filled Graham Crackers and a delicate touch of torched Marshmallow.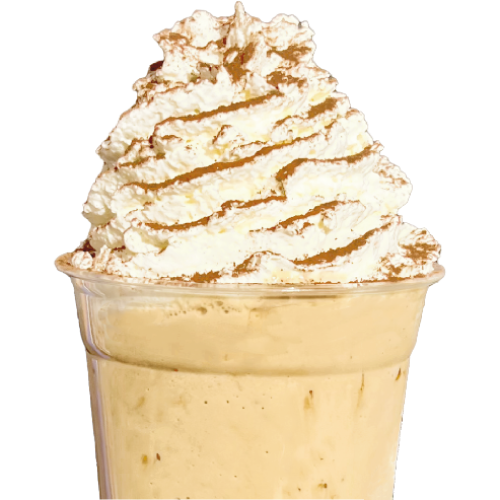 COFFEE
A caffeinated delight for coffee enthusiasts. This creamy concoction starts with our Soft Serve Gelato, infused with the bold and invigorating premium Coffee. We blend it with Whole Milk, creating a velvety-smooth texture that will dance on your palate. Topped with a generous swirl of Homemade Whipped Cream, the milkshake is crowned with a sprinkle of ground coffee, adding an aromatic touch. With every sip, you'll be greeted by the rich and robust notes of coffee, enveloped in a creamy embrace.
BANANA NUTELA CRISPEARLS
We start with our creamy Soft Serve Gelato, infused with the rich and velvety essence of Nutella. Banana puree is added to enhance the flavor. We then blend it all together with Whole Milk for a smooth and creamy texture. To elevate the experience, we sprinkle the finest Belgian Callebaut Chocolate Crispearls throughout, adding a satisfying crunch and bursts of intense chocolate. The finishing touch, a dollop of Homemade Whipped Cream with more Crispearls sits proudly on top.
OREO
Indulge in the Oreo Milkshake, a creamy delight featuring Soft Serve Gelato blended with the irresistible taste of Oreos and Whole Milk. Topped with Homemade Whipped Cream and garnished with more Oreos, it's a treat that satisfies your sweet cravings in every sip. Try the Oreo milkshake, a favorite among thousands of customers.
NUTELLA DREAM
Savor the delightful Nutella Dream milkshake, a renowned favorite among our customers. This creation features the perfect combination of Soft Serve Gelato, luscious Nutella, and creamy Whole Milk, blended to perfection. Topped with our homemade Whipped Cream and adorned with scrumptious Kinder Buenos, it's no wonder this milkshake has been enjoyed and celebrated by countless patrons. Join the ranks of those who have relished in its irresistible flavors and discover why it's an absolute must-try.
Artisan Gelato Bowls
Welcome to our Artisan Gelato Bowl collection – a symphony of flavors meticulously crafted to elevate your dessert experience. Each bowl is a masterpiece, blending the finest ingredients into harmonious indulgence. From classic combinations to innovative creations, our Artisan Gelato Bowls redefine dessert as a true work of art.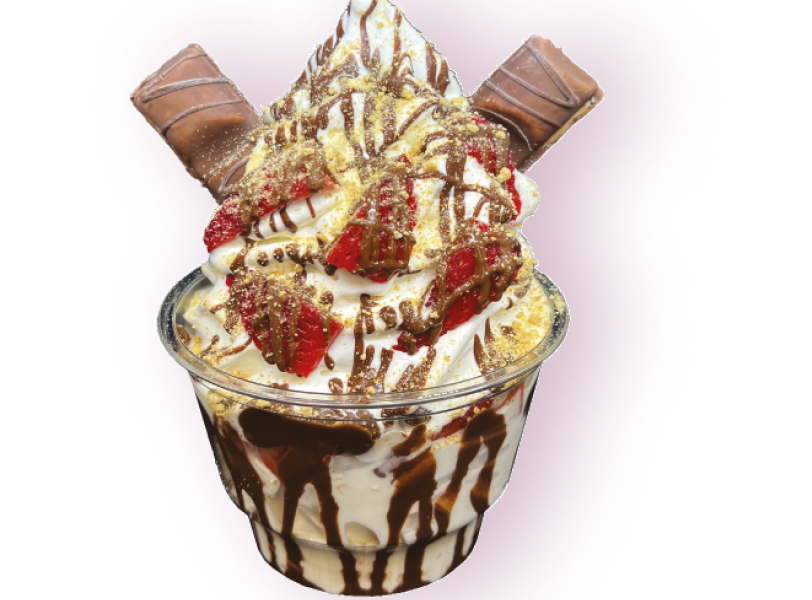 Dole Float
Experience pure pineapple bliss with our Dole Float. Indulge in the velvety delight of Dole Whip Soft Serve perfectly paired with Dole 100% Pineapple Juice. Each sip is a harmonious fusion of creamy and refreshing, offering a symphony of flavors that capture the essence of tropical paradise. Whether you're looking to cool down on a warm day or satisfy your pineapple cravings, our Dole Float promises a delightful and invigorating treat in every sip.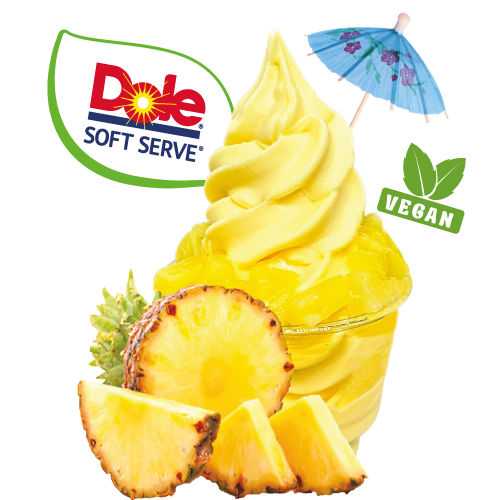 Dole Whip
Revel in the origin of Hawaiian vegan pineapple bliss with Dole Whip Soft Serve. Immerse yourself in the creamy delight of pineapple-flavored soft serve that captures the genuine essence of the Hawaiian Islands. Let the refreshingly sweet notes of ripe pineapples transport you to the sun-soaked shores where the legacy of Dole Whip began.
Nutella Dream
Delight in tempting indulgence with our Nutella Dream Gelato Bowl. Immerse yourself in the luxurious Nutella, complemented by the allure of graham crackers. Crowned with the elegance of Kinder Bueno, drizzled with Nutella sauce, and adorned with sweet strawberries, it's a bowl that promises a symphony of flavors in every irresistible spoonful.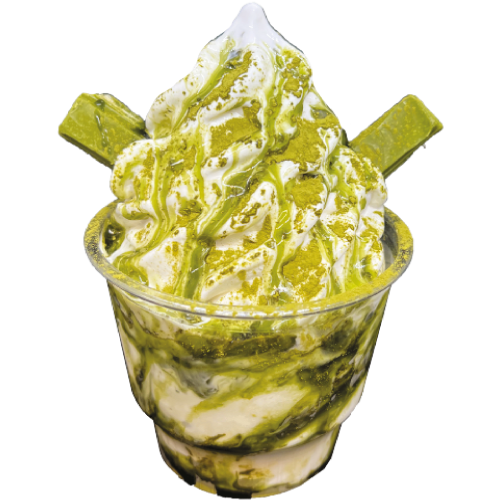 Matcha
Transport yourself to a Matcha Green Tea Dream with our Gelato Bowl. Enjoy the natural essence of raw matcha powder, the playful crunch of Matcha Kit Kat, and the rich Uji Matcha Sauce. It's a bowlful of serene flavors that embodies the spirit of Japanese tea culture in every delightful spoonful.
Butter Pecan
Experience velvety delight with our Butter Pecan Gelato Bowl. Enjoy the essence of roasted pecans, complemented by our homemade butter pecan sauce and a drizzle of indulgent caramel. It's a bowlful of warmth and flavor that offers a taste of comfort and luxury in every spoonful.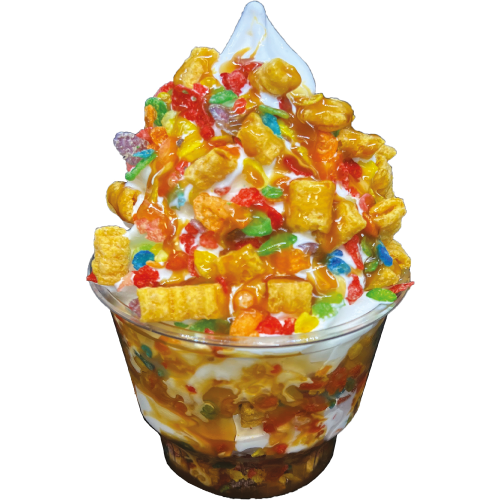 Big Bang Crunch
Discover a universe of flavors with our Big Bang Crunch Gelato Bowl. Indulge in the fusion of Fruity Pebbles and Cap'n Crunch, accented by a drizzle of caramel sauce. It's a taste adventure that's out of this world, offering a fun and satisfying treat that's perfect for kids and the young at heart.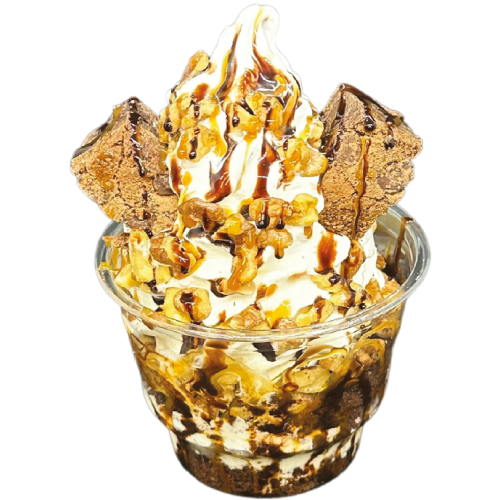 Brownie Double Chocolate
Discover Choco Brownie Heaven in our Gelato Bowl. Relish the rich decadence of chocolate chip brownies paired with the satisfying crunch of walnuts. Drizzled with sea salt caramel and adorned with velvety chocolate sauce, it's a taste of pure delight that promises to satisfy your sweet cravings.
Unicorn
Step into a world of whimsy with our Unicorn Gelato Bowl. Dive into Nutella, sprinkled with Unicorn Sprinkles and topped with adorable handcrafted Unicorn Fondant. It's a delightful treat designed to bring smiles to kids of all ages, capturing the magic of unicorns in a bowl of pure joy.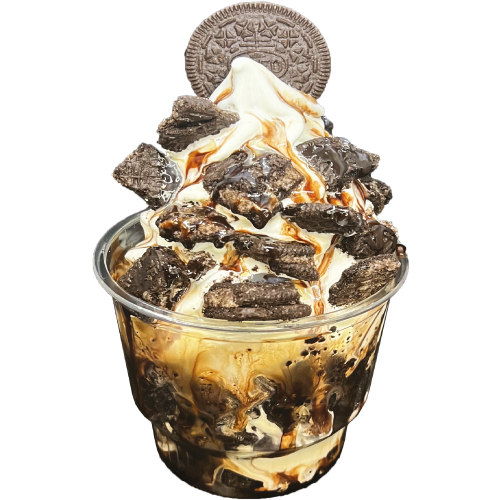 Oreo
Satisfy your cravings with our Oreo Artisan Gelato Bowl. Dive into a world of chocolate delight with layers of Oreo cookies, velvety chocolate sauce, and luscious white chocolate sauce. It's a symphony of textures and flavors that will leave you in a state of choco euphoria.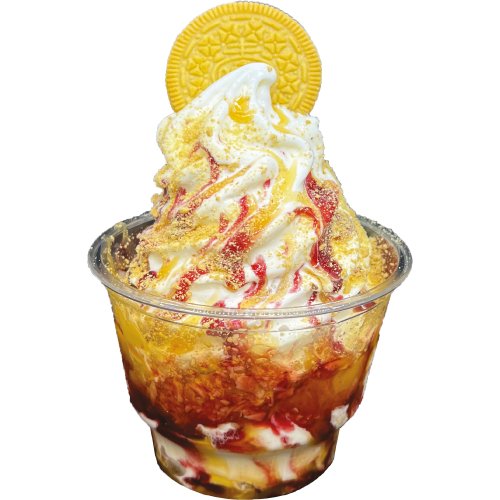 Lemon Curd
Experience a burst of flavors with our Lemon Curd Gelato Bowl. Indulge in the zesty tang of lemon curd, complemented by the crunch of almonds and graham crackers. Drizzled with sea salt caramel and raspberry sauce, this bowl is a harmony of taste and texture that promises a delightful dessert experience.
French Crepes
Traditional French batter recipe with Milk, Eggs, Butter etc.
Strawberry Banana
Our homemade French crepes, lovingly crafted to perfection, are generously adorned with a luscious layer of Nutella, slices of ripe bananas, and the juiciness of fresh strawberries. Topped with a cloud of velvety whipped cream, this crepe creation is a perfect union of sweetness and lightness. Whether you're seeking a breakfast delight or a dessert sensation, this crepe promises to enchant your taste buds with its delightful symphony of flavors.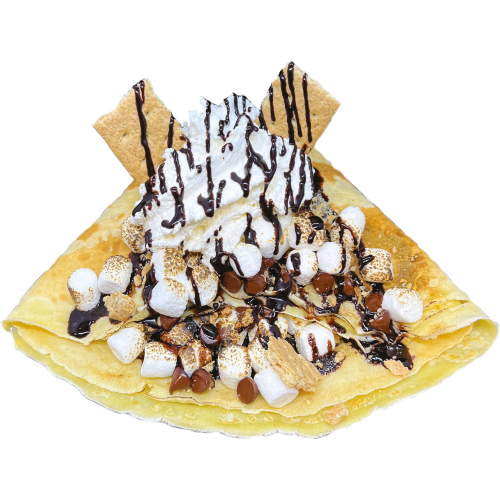 S'Mores French Crepes
Ignite your senses with our S'mores Crepes. Featuring rich chocolate sauce and semi-sweet chocolate chips, these crepes capture the essence of the classic treat. Topped with torched mini marshmallows, graham crackers, and a swirl of whipped cream, it's a journey of flavors that evoke campfire memories in every bite.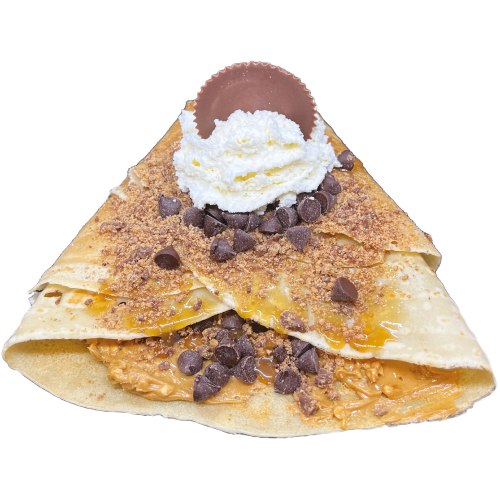 Reese's
Savor the Reese's Crepes, a fusion of flavors that's simply irresistible. These crepes are a canvas for the rich allure of peanut butter, the delightful essence of Reese's, the indulgent touch of semi-sweet chocolate chips, and the perfect balance of sea salt caramel. Finished with a flourish of whipped cream, it's a symphony of taste that leaves you craving more.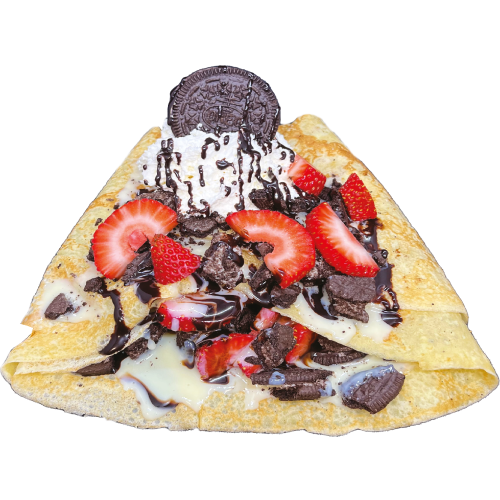 Oreo
Dive into pure delight with our heavenly Oreo Crepes. These crepes embrace the irresistible fusion of Nutella and the beloved Oreo cookies, adorned with a luxurious drizzle of chocolate sauce and the vibrant sweetness of fresh strawberries. Crowned with a swirl of whipped cream, it's a moment of pure bliss that ignites the senses with every bite.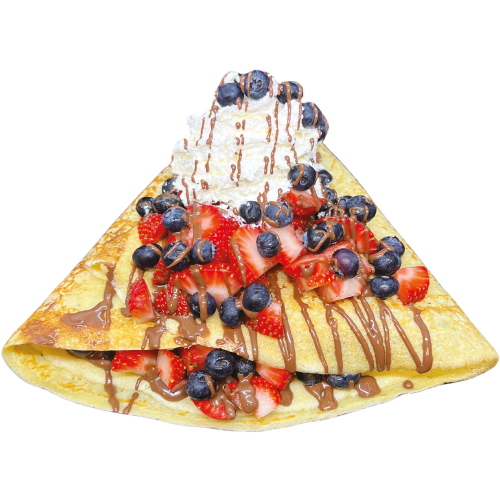 Frutti
As you take your first bite, the Nutella oozes with its creamy hazelnut richness, complemented by the juicy sweetness of the strawberries and the burst of freshness from the blueberries. The delicate balance of flavors and textures dances across your taste buds, creating an experience that is both luxurious and light. The combination of the Nutella, the vibrant berries, and the ethereal whipped cream transforms each bite into a moment of pure indulgence.
Ferrero
Elevate your senses with our Ferrero Crepes. Crafted with the mastery of traditional French recipes, these crepes are adorned with the opulence of Nutella, the sophistication of Ferrero Rocher, the crunch of walnuts, drizzled with rich chocolate sauce, and crowned with whipped cream. A symphony of flavors and textures in every bite, delivering an extraordinary taste experience.
Brownie
Immerse yourself in the richness of brownies and the elegance of dulce de leche, elevated by velvety chocolate sauce, a hint of sea salt caramel, and a dollop of whipped cream. This delightful creation offers a crossroads of flavors, where American decadence meets French finesse, for a truly unique and unforgettable culinary journey.
Banana
Experience a dreamy sensation with our Nutella Banana Crepes, a timeless best seller that captures hearts and palates alike. These crepes combine the creamy allure of Nutella with the natural sweetness of ripe bananas, topped off with a luxurious cloud of whipped cream. This delightful creation is a symphony of flavors that has earned its place as an absolute favorite, promising an unforgettable taste journey with every mouthwatering bite.
Belgian Waffles
Warm Liege Waffles with different toppings, Soft Serve Gelato and Homemade Whipped Cream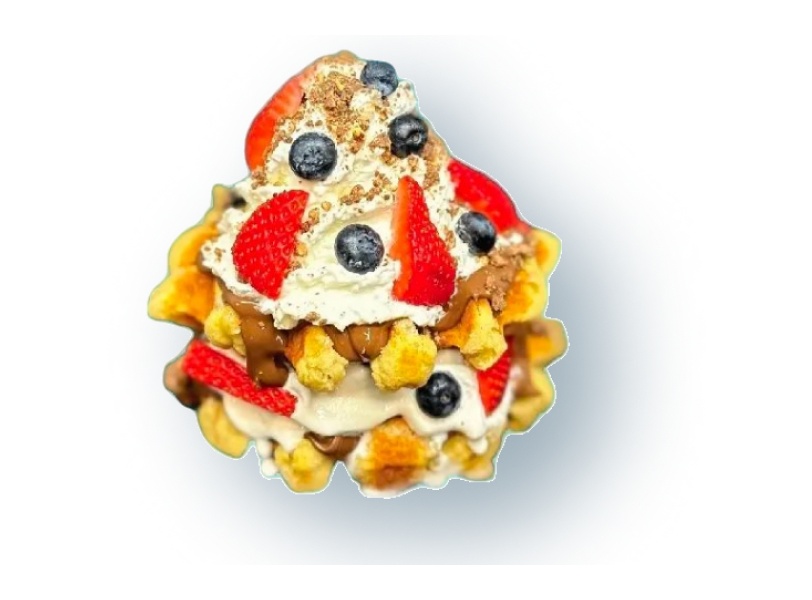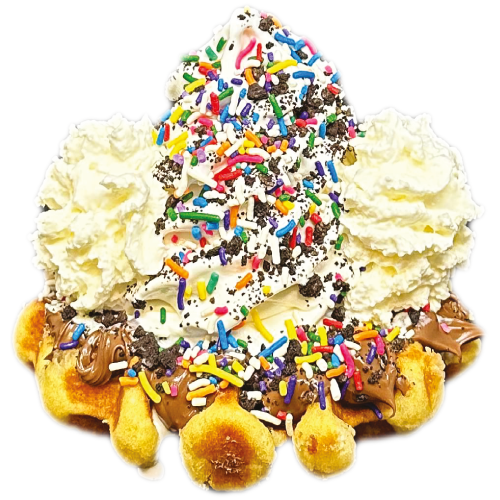 Gelato Sundae
Gelato Sandwich